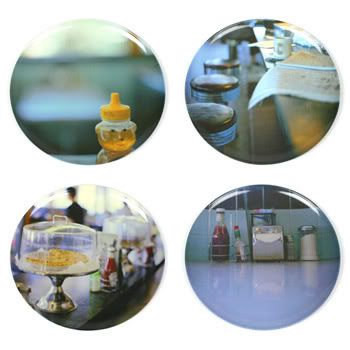 Ah, the open road!
And pulling the '57 wagon in to park beneath the flashing neon "Good Eats" sign…
Ah, that good old down-home cooking!
Served up by gum-chewing Flo in her perky turquoise uniform and bright red lipstick, trading wisecracks with Sal, the big bald white-aproned tattooed galoot behind the counter…
If you're a fan of Melamine, retro style, and the roadside diners that practically defined the United States through the 1950s, Elsewares.com has the perfect dinner plates for you.
Evoke those Happy Days of chrome & formica with Melamine diner plates in four cool photo-realistic designs, by Bob's Your Uncle.